I used to roll my eyes when people would say "they grow up so fast"….yes, I thought I was a pro at taking it all in—living in each moment—able to live in real time…yet, as I look back on the blur of the past month even, I realize—they do in fact grow up so fast. Yep—I find myself asking where my baby is—the one I just brought home from the hospital—you know, 11 months ago. Really—11 months? How did that happen. But that isn't quite as shocking as having a 3 year old—A THREE YEAR OLD!!! My teeny tiny little boy is now big boy—riding a bike and body slamming his little brother repeatedly—I couldn't ask for anything more! And Rusty and me—now married for 5 years…how blessed are we to have found each other—he's my best friend and I know he'd say the same about me (he'd better say the same!).
Jack still isnt walking...but he can...he is just being a baby! He still says mama, dada, cacky (cookie) and now gigi....he also has little conversations in jibberish...it is so cute!
So the past month has been pretty busy…we've been to a wedding, pumpkin patch, anniversary, birthdays,zoo, and lots more...here is a little detail on some of the things that have gone on....
We celebrated our 5th Anniversary on October 15th…I decided to make a big deal about it because it seems like a milestone…and we've had a lot happen in the past 5 years—it just seemed like we should celebrate in an extra special way….Also, since Memommy (Rusty's grandmother) was not able to come to our wedding, we were so excited that she could be a part of this!!!! So we had a special blessing and then a big family dinner with our extended family. Par and Jack were able to be part of the blessing—Fr. Bazzel did a beautiful job—and I now have a new favorite family picture.
Each anniversary Rusty and I do a gift together instead of giving gifts to each other. This year it was wood—so we decided to do a family crucifix. My maternal grandfather crafted the cross for us and we purchased the corpus which he affixed to the cross. It is beautiful and super special for many many obvious reasons.
Par had school pictures coming up—so I got him dressed in the cutest outfit and sent him off to school. Par came home with this.
So…the next day I put the same outfit on him and went to school with him—and this is what we got.
Sigh. I fear weird Uncle Joe/Aunt Sally genes may have seeped through the filter.
Rusty's 35th Birthday was a week or so later—he had a wonderful birthday party at Chick-Fila! We consume a lot of chick-fila around here –and it sure is nice to have a place for Par and Jack to release the over whelming amount of energy they seem to ALWAYS HAVE…so it seemed like a good place to celebrate. Because it was the night of an Alabama game, our sons dressed appropriately. Happy Birthday to the greatest man in my life—I love you so much!
Darrell and Mary came in town for Par's birthday (as is tradition)--
Darrell and Rusty were able to get some good golf games in…it has been so pretty around here—I know they enjoyed it! We celebrated Par's Birthday on Halloween with a fun costume party and his little friends! And then Par discovered trick-or-treating….and all the candy. He was so "wasted" on the sugar—it was hysterical.
I know your wanted to be a part of the big Family of Riches Annual Halloween Costume reveal….sorry it is so late…but here goes….drum roll please….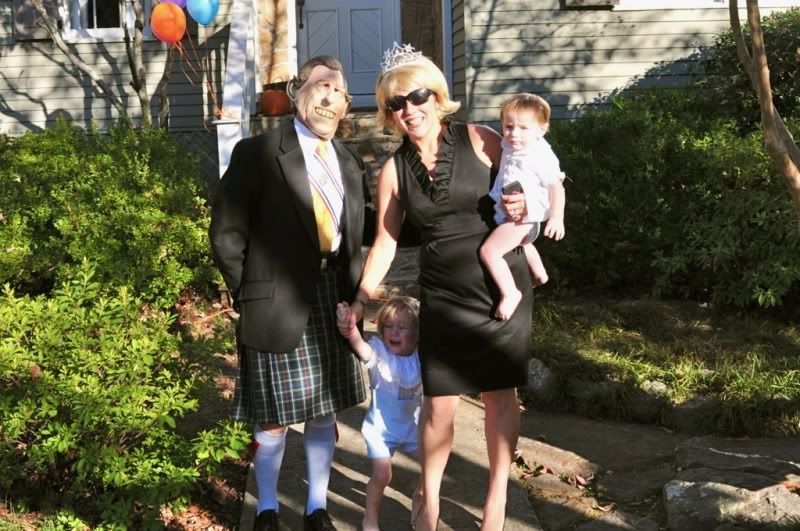 Princess Diana, Prince Charles, Prince William and Prince Harry.
Par and Jack SCREAMED when Rusty put the mask on….and just when he finally calmed down….Sir drives up in a hideous mask...
And the screaming begins again.
Not to worry, Mother Inferior (Gigi) there to rescue him.
Hungry anyone? Bacon and Eggs (big d and minnie)
And what is Halloween without a little Boo! (his Boo, that is!)
Par got golf clubs from Rusty and me for his 3rd Birthday. He loves them...and it was cute to see him playing with Rusty and Big D...There is just something so precious about watching fathers and sons interact.
Lately the boys have really loved there routine…Par goes to school on Tuesday and Thursday—Jack goes to Homeschooling at Gigi's on Tuesday and Thursday—and then to the library on Thursday followed by lunch with his friends. Both the boys love playgroup on Tuesday afternoons—but more than that they LOVE playing outside—doesn't matter if it is cold, hot, raining or dry—they love it! Jack especially enjoys the front yard and the various sized rocks he is able to shove in his mouth, as well as the flight of stone steps he can scramble up faster than a rabid squirrel.
Speaking of rabid squirrels…..
Picture this….the house is clean—the laundry is folded and put away—the bathrooms and kitchen are spotless and actually sanitary…I hear the chatter and laughter of my darling boys. My heart skips a beat as I reflect on how absolutely perfect life is at the exact moment…ahhhhh…motherhood is beautiful….
And then the innocent chatter and laughter turns to precious squealing and hysterical laughter and with a bounce in my step I walk just around the corner into the kitchen to watch my two boys interacting with each other so lovingly…..and then I see it.
I don't know how I didn't throw up right then. There is Par, standing up with a huge smile on his face pointing towards Jack saying something through his own squeals of glee. And sitting on the kitchen floor with an even bigger grin is Jack—happily flapping his little arms in the air—with a dead chipmunk in his left hand. GAG!!!!!!
I lost it. I began to scream. They began to scream. I began to cry. They cried. I scooped Jack up and flung his arm so the chipmunk went flying across the kitchen. Yep. Still dead. I rushed him into the bathroom and tossed him in the tub. I was not calm and collected. I was a mess….Jack has never picked up anything without first putting it in his mouth—I'm sure this was no exception. I cried more as I thought about this fact. Par was so confused at his crazy mom—he was definitely upset and I asked if he had touched the chipmunk too. He said no. Then he started to cry and fessed up….he had stepped on it with his bare feet. Needless to say, he climbed in the tub without coaxing and asked me to wash his feet.
My only solace—I'm sure the chipmunk was healthy and happy in the wee hours of that particular morning—until our cat Faded Patches came on the scene. Yes…I'm sure it was a little gift of love from our cat—I don't fear any horrible diseases—our tree rodents seem to be pretty healthy around these parts. Wow…am I in denial??? I hope not. And no….in case you are wondering….I do not have a picture of the event.
I ran in the Vulcan 10k…it was challenging—but a TON of fun! I finished in 54+ minutes…I was pretty pumped! After I finished, Par and I ran the 1 mile fun run….Par cried the entire way.
Since then...the boys have had pretty intense colds--Par had a fever of 104+ for a week straight...obviously with doctor frequents every other day! Thank goodness...everyone is well now...just in time for Thanksgiving!!!!!
We're looking forward to Thanksgiving….