Maybe it is because we are new parents. Maybe it is because we lived in Gainesville for too long. Or maybe it is because we both had happy childhoods—what ever the case, we love our city.
Birmingham had a stormy rainy night on Friday and then Saturday morning it was as if it never happened. The weather was gorgeous—perfect actually. As usual, we took our Saturday morning walk to Crestline Bagel for breakfast. Julie and Elizabeth joined us! Boo, Great Aunt Lissy and Great Aunt Virginia stopped by while we were eating—Elizabeth was very excited to see her Boo—and very upset when she left…of course, Boo loves it.
Lots of people were out and about—mostly because of the gorgeous weather, but also because of the Mountain Brook Art Show. After breakfast we walked over to the art show being held on the field at Crestline School. We saw lots of familiar faces—including some of Par's friends! We didn't buy any art, but I have a new favorite artist-
www.amycrewsgallery.com
Thankfully we live pretty close to the school, so we headed home when Par started acting a little fussy—it was getting close to eating/napping time.
Later, Rusty had run an errand and came upon a birthday party around the corner from us. So of course—out we go again—and yes, although it is hard to believe—the birthday party was a petting zoo—sheep, billy goat, and of course- a pony! Too bad Par won't have any birthdays like that—but it was fun to see! As you can see in the picture, one of the billy goats was getting friendly with a party-goer.
Drum roll please………………
Par weighs over 12 pounds! I can't believe it! I'm so excited! I'm not for sure on the science of it all—but from what I understand, once a baby reaches 12 pounds they are able to hold their weight a little better. We'll see…it may not apply to Par since he still expends his calories much faster than an average baby—but my books say this is a magic weight—so we are praying that he'll pick up some mad pounds and play catch-up the next few months.
Par doesn't sleep in his baby bed (gasp!) but he does enjoy playing in it! After his bath tonight he was a little monkey! He really has no fear—I can't believe we are in charge of the precious little boy!
Today was just as busy as Saturday—we finally got that picture with Par's friend Rose (we went to her baptism last week). Par and Rose spent some good quality time in the back of the church due to their vocal chord stretching exercises.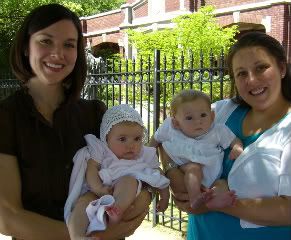 After a quick bite, we met up with some of Par's guy friends and hung out at Homewood Park—it was fun to see Coleman and Read running around—I could tell Par was jealous of their mobility. Tiffany enjoyed the outing as well—it took a while but she eventually settled down in the shade of our umbrella.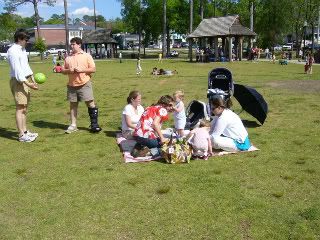 This evening, Par was full of giggles—I sort of think he was just slap-happy from all of the excitement from the last couple of days.
We've enjoyed all of the television coverage of The Holy Father's visit to the USA--it was exciting to see the Diocese of Birmingham's Bishop Foley sitting amongst the other clergy in Yankee Stadium. We thank God for the life and example of Pope Benedict and pray for a safe journey home.